Nuthin' But An "i" Thang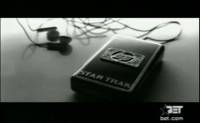 Wow.
As if we needed a bigger sign that consumer electronics are the new "dot coms."
Snoop Dogg is sporting a diamond-encrusted iPod in his latest video. When Snoop steps up to the iPod, it's more than an Apple shout out (or sign of product placement
loochie
from H-P?): it's proof that innovation in technology has moved from the era of Internet companies and networkers, and is back in the hands of, well, hands. Gadgets. Handhelds. High tech for the retail market. Cool stuff for the common rapper.
Whether it's GPS devices in the car... sorry... in your ride (sticking with the hip hop theme), the rapid adoption of the Blackberry/Treo/Sidekick, or the
ubiquity
of the camera phone, all of a sudden, consumer electronics are aiiight.
Will this show up in
Apple's
earnings Wednesday? Fo Shilzzle mah Nizzle! The iPod has moved from being a bit player among Apple's revenue streams to the central driver for the company. While every product release from rivals seems to threaten the iPod, Snoop's endorsement suggests that the iPod is more than the rappers delight - it's the dominant embodiment of the possibility of technology in our lives... which is why shares of Apple are up over
150%
since the announcement of Apple's iTunes.
Still, one thing's been bothering me about our
Man from the L.B.C
.: How
does
Snoop Dogg say "chisel"?